Food Market
Oven-fresh sandwiches for breakfast or a basket full of ingredients for a fresh and healthy meal? You can find it at our modern food market! In addition to daily products, there are many regional products as well. Moreover, there is a coffee-to-go and a self-service orange juice machine.
Don't feel like figuring out what to eat tonight? No problem, we've got you covered. At the front of the store, you can find weekly fresh, easy dishes elaborated with a complete recipe. TIP: take a picture with your smartphone.
All products are within reach, allowing you to conjure up a delicious fresh meal for the whole family.
Bicycle rental at the campsite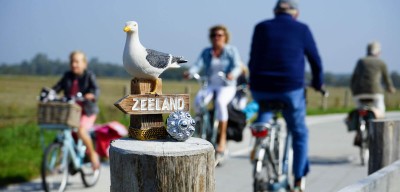 Want to explore the Zeeland environment in an active way? You can rent bicycles at our reception. Enjoy a ride through the beautiful, vast Zeeland-Flemish polders or cycle through the dunes and look at the large ships that pass by. We also have bicycles for our youngest guests so they can cycle alongside you.
Do you want to book for a period longer than 3 weeks? Contact in that case the camping itself directly by phone or email.