Swimming pool
Camping Zonneweelde is known for its open-air swimming pool with a fantastic water playground. So not only can you swim laps in peace here, but you can also play and splash around! The swimming pool is open daily in the months of July and August. Since recently, we have solar collectors that ensure the sun can heat the water in an environmentally friendly way. The deep swimming pool is 1.40 metres deep and fenced. Our pool is only accessible to guests of Zonneweelde/Strandweelde. Our water playground is next to the terrace of our cosy restaurant!
Water playground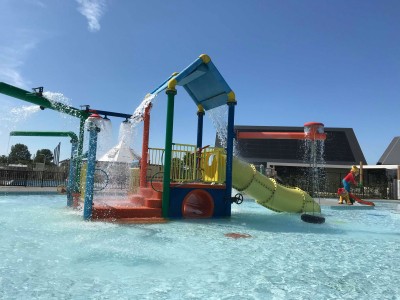 Our water playground has a slide, climbing tower and sprinklers, making for hours of swimming fun! Next to the water playground, you can also find a water playground in the sand. You can dig your own canals, dams and sluices here, build castles or just mess around with sand and water: In short, it's all possible here!
A vacation full of water fun!
Do you want to book for a period longer than 3 weeks? Contact in that case the camping itself directly by phone or email.